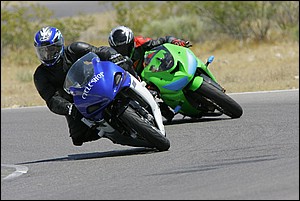 There is NOTHING better!! Two Wheeled Madness!!
This is my site dedicated to my obsession with Motorcycling. I am the proud owner of a Suzuki Hayabusa (GOD of Speed), and a GSXR 750 (Pound for Pound Greatest). I am no, Suzuki only guy; things just happen to work out that way. My bike addiction takes up all of my free time, when I am not thinking about my family or work, I am usually thinking of ways to improve my riding skills and also the performance of my bikes. Drag-Racing and Track-days are my promary means of limit pushing, but I go out for occasional rides when the weather is cool enough to bear. So check out some of my great pics of my bikes and some of the great sceneray they have taken me to. Thanx for looking.
Site created 7-26-05
This site is under major construction. This is my first time creating a site, so please be patient.
More updates to come as soon as I can think of them.
Welcome To My Home Page
Soon to come:
Maintenance Tips, I have collected from various site on the net! As soon as I figure out how to post them, that is!
Notifying Visitors of Site Enhancements
Another idea for my home page's text is notifying visitors about the enhancements I put on my site. For example, I want visitors to sign my guestbook or fill out my survey Form E-mailer to answer questions about my site, my business, or my site's topic.
Send an email
Get Some important MOTO Info from my Site!!!
I am SHWELL on most of these sites, give me a holla:
2003 SUZUKI GSXR (Canyon Carver) 750
The Harder I work, the better I live!
Contact Me!!